Annual Wellness Visit
The AWV is a preventive service that helps providers identify risk factors and evaluate the overall health status of the patient based on the reported health information.
AWVs are specifically for Medicare beneficiaries and are intended to drive conversation between the patient and their provider about all facets of their health.
An Annual Wellness Visit is not the same as an annual physical as it does not require a physical exam. The AWV instead includes a self-reported health questionnaire that helps generate a Personalized Prevention Plan (PPP).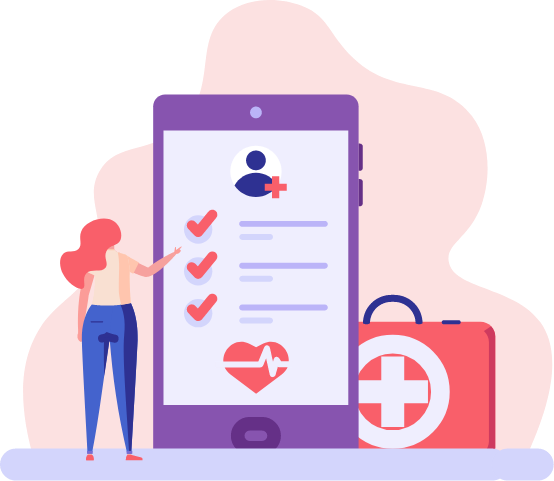 Significance of Medicare Annual Wellness Visits
As the shift in healthcare from volume-based care to value-based care continues, the importance of preventative services like AWVs grows significantly. AWVs are a preventative service that identifies gaps in care and improves the quality of care that providers deliver.
According to the Centers for Disease Control and Prevention, if everyone in the United States received recommended clinical preventive care, more than 100,000 lives could be saved each year.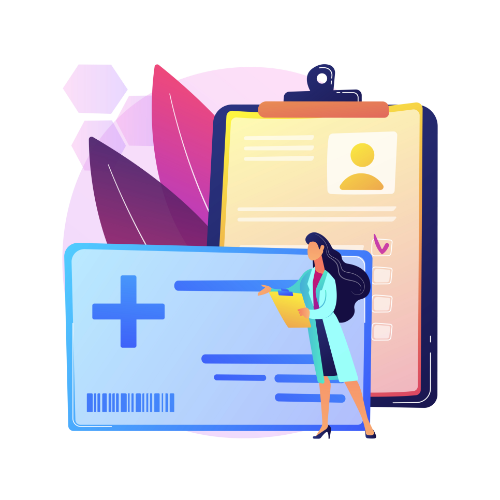 AWV's Health Risk Assessment
The health risk assessment (HRA) is a self-reported patient questionnaire that patients complete as part of the Medicare Annual Wellness Visit (AWV).
Completely on their own, the patient can fill out answers to questions that assess things like their medical history, functional ability, cognitive impairment, and overall health status.
The responses to the questionnaire will identify risk factors and help generate a personalized prevention plan that the patient can review and share with their current providers.
Advantages of Medicare AWV over Physical Exams:
First, AWVs and Physicals are two separate visit types. While we can all appreciate the thorough, thoughtful provider who wants to spend 45 minutes to an hour with each Medicare patient completing a full physical examination, lab work, and renewing prescriptions, AWVs need not take up valuable provider time in order for the patient and the provider to see the benefits.
Not only will Medicare not cover a yearly physical exam but any tertiary services provided during a physical will also incur a 20% cost-sharing balance for the patient. On the other hand, AWVs are free to the patient as they do not require a copayment, while providers are reimbursed for providing the service.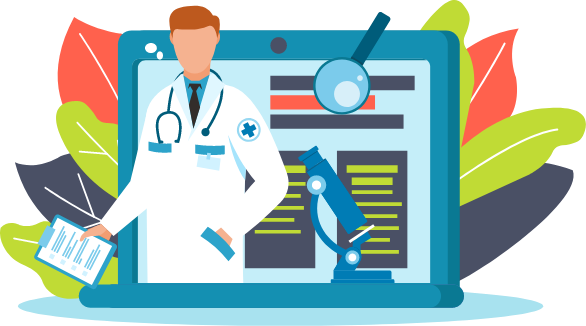 AWV - Patient Eligibility & Costs
Patients who have had Medicare Part B for more than 12 months and have not had a Welcome to Medicare Visit (IPPE) or AWV in that timeframe are eligible to partake in an AWV.
People with Medicare can access the Annual Wellness Visit free of cost so long as they meet the eligibility requirements. However, they may have to pay coinsurance or a deductible if their physician performs tests or services that are not considered to be Medicare preventive services.
Who can perform an AWV
AWVs can be performed at primary care facilities, some specialty practices, and even urgent care clinics.
The HRA is completed by the patient, and the remainder of the service can be completed by a variety of healthcare professionals including a physician, physician assistant, nurse practitioner, certified clinical nurse specialist, or medical professional working under the direct supervision of a physician.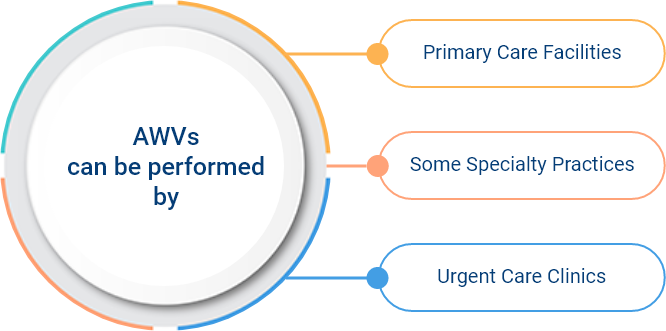 Personalized Prevention Plan of Service (PPPS)
An Initial AWV with PPPS includes
Medical and family history
List of current medical providers
Height, weight, BMI, BP, and other appropriate routine measurements
Detection of cognitive impairment
Review risk factors
Review of functional ability
Establish a written screening schedule for the next 5-10 years
Establish a list of risk factors
Provide advice and referrals to health education and preventative counseling services
Other elements as determined by the Secretary of Health and Human Services
Challenges in delivering Medicare AWV Services
The major reasons providers fail to complete Medicare Annual Wellness Visits (AWV) are
Providers are resistant because they believe AWVs take up too much time.

Providers have not been educated on the benefits of AWVs or capture options

Providers confuse Physicals for AWVs
LevelUp Annual Wellness Visit Services
We are a HIPAA-compliant clinical care delivery center and have vast experience in Medicare Advantage health risk evaluation and revenue maximization services. LevelUp empowers practices to streamline and automate AWVs with accurate eligibility checks and patient-centric questionnaires.
Our care team identifies all preventive screenings and health risks the patient medically qualifies and/or is covered by Medicare and offers additional screenings to maximize each visit. Exponentially enhance patient care and profitability without overburdening your staff!
Increased Reimbursements

Improved Health Outcomes

Improved Practice Efficiency

Increased Patient Retention

Reduced Healthcare Costs
Medicare AWV Billing Guidelines
Only one provider can bill for a patient's AWV each year. So, if a primary care provider bills for an AWV, and then a specialist tries to bill an AWV for the same patient in the same year later, the specialist's reimbursement will be denied.
The COVID-19 pandemic has added additional flexibility for AWVs. During a public health emergency, AWVs are permitted to be conducted via telehealth. Medicare requires the place of service code 02 for telehealth, and modifier 95.
| | IPPE (Welcome to Medicare, G0402 | Initial AWV (G0438) | Subsequent AWV (G0439 |
| --- | --- | --- | --- |
| How often? | Once in a lifetime | Once in a lifetime | Annually |
| Eligibility | Within the first 12 months of Medicare Part B enrollment | 12 months after the IPPE (or if the patient did not receive an IPPE during the 12-month eligibility window) | Every year after the initial AWV |
| Minimum time since the previous AWV | Not applicable (first visit) | At least 11 full months after G0402. (Can be billed when you reach the same calendar month as the previous year's visit.) | At least 11 full months after G0438 or G0439. (Can be billed when you reach the same calendar month as the previous year's visit.) |
| Required physical exam components | Height, weight, body mass index (BMI), blood pressure (BP), visual acuity screening (w/ documentation) | Height, weight, BMI, and BP (visual acuity screen not required) | Weight and BP (height, BMI, and visual acuity screen not required) |
| Electrocardiogram (ECG) screening covered? | Yes, but co-pay and deductible apply (ECG codes G0403, G0404, and G0405) | No | No |
| Can advance care planning (ACP) be billed separately? | No. ACP is included as a mandatory component of this visit. | Yes, CPT 99497 and 99498 can be billed separately as long as minimum time requirements are met. Use modifier -33 to avoid co-pay and deductible. | Yes, CPT 99497 and 99498 can be billed separately as long as minimum time requirements are met. Use modifier -33 to avoid co-pay and deductible. |
| Reimbursement Rate | $168 | $173 | $117 |