Chronic Care Management
Chronic Care Management (CCM) is the active coordination of care and services completed outside of regular patient visits on patients with multiple (2 or more) chronic conditions expected to last at least 12 months or until the death of the patient, and that place the patient at significant risk of death, acute exacerbation or decompensation, or functional decline.
Medicare (CMS) recognizes CCM as one of the critical components of primary care that contributes to better health and care for individuals, as well as reduced overall healthcare spending. CCM enhances patients' access to qualified health care professionals and clinical staff working on their behalf.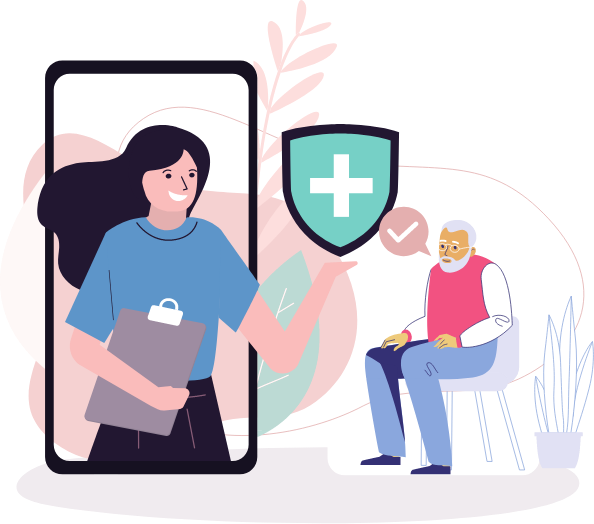 Chronic illness is on the rise and is not going away anytime soon! As per 2020 CMS data,
22 M

over 22 Million Medicare patients are eligible for the CCM program

4 in 10

4 in 10 adults in the US have a chronic disease

2 in 3

2 in 3 Medicare beneficiaries have 2 or more chronic conditions

83.4 M

By 2030, patients with 3 or more chronic diseases will nearly triple to 83.4 Million
How do Patients Benefit from CCM?
Medicare CCM services are typically non-face-to-face and ensure a higher level of care coordination. Patients with two or more chronic medical conditions and above the age of 65 can stay connected through telephone, web, or mobile applications with their care providers for regular monitoring and in case of emergencies.
Such coordinated care improves their overall wellbeing and reduces readmission rates and ER visits. For patients who are both Medicare and Medicaid eligible, there is no copay or fee.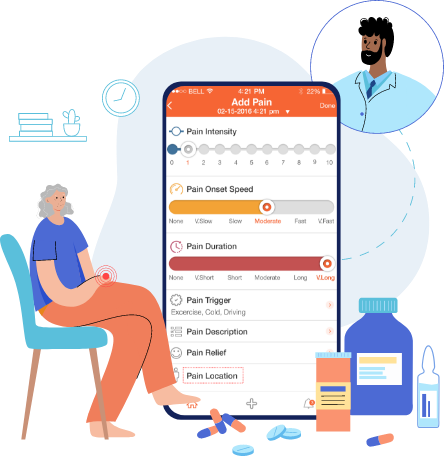 How It Works
Chronic Care Management (CCM) program by CMS is more extensive than what is typically involved in a doctor or NP visit. CCM includes a structured recording of patient health information, maintaining a comprehensive electronic care plan month to month, managing transitions of care and other care management services, and coordinating and sharing patient health information timely within and outside the facility and practice.
1

Identify Eligible Patients

2

Consent and Enroll

3

Create Care Plans

4

Provide Service

5

Track Time

6

Reporting and Billing
Benefits of Medicare CCM Program
Engage patients in between office visits

Increases ease of access to care and wellness resources

Frees up providers to focus on in-office encounters

Improved patient experience, satisfaction, and outcomes

Reduced overall healthcare cost

Increased reimbursements and MIPS scores
Challenges in Delivering Chronic Care Management
Nearly 70% of the 67.7 million Medicare patients in 2020 are challenged with two or more chronic conditions. However, most healthcare providers don't have the capacity or infrastructure to give them the help and attention they need on a monthly basis.
Most providers acknowledge one or more of these issues when it comes to patient engagement during chronic disease management.
Inability to track patient's health progress after office visits
Lack of patient compliance and consistent follow-up
Poor treatment compliance and medication adherence at home
No financial leverages for time spent with patient outside an office
LevelUp Chronic Care Management Services
Seamlessly implement the Medicare Chronic Care Management Program for your practice. Our team of skilled experts can assist in developing a simple implementation plan suitable for your practice needs with no setup fees or additional costs.
Secure Online Web Portal The providers will have access to their own secure and HIPAA-compliant web portal.

Simple Setup and Configuration​ Our hassle-free setup does not involve any complex installations. You can be up and running in just 48 hours!

Accelerated Patient Enrollment Our specialized enrollment team will contact patients, educating and enrolling those who consent.

Documentation for CMS Audits We mitigate the risks of CMS audits with meticulous time tracking, documentation, and reporting.

CMS Guideline Changes We are flexible enough to accommodate the CMS changes and additional CPT codes based on the practice needs.

Data Analytics & Reports Our provider dashboard offers customizable reports and insights, helping you make informed decisions.
Medicare CCM Reimbursement Codes
The billing practitioner must be a physician or a qualified health care practitioner (QHCP). FQHCs and RHCs may bill for the CCM services under the G0511 care management code.
| CPT Code | Average Reimbursement / Month | Minimum Service Time / Month |
| --- | --- | --- |
| 99490 | $42.80 / patient | 20 min |
| 99490 + 99439 (99439 for additional 20 mins) | $79.40 / patient | 40 Min |
| 99490 + 2*(99439) | $118.01 / Patient | 60 Min |
| 99487 | $93 / patient | 60 Min |
| 99487 + 99489 (99489 for additional 30 mins) | $140 / patient | 90 Min |