Remote Patient Monitoring
Remote Patient Monitoring (RPM) is a preventative program designed to monitor the physiologic data of patients with chronic diseases, identify problems and prevent exacerbation of their conditions.
Medicare RPM helps providers transform their practice and keep up with the radical changes in the healthcare industry. It empowers connected care by expanding care expertise beyond the traditional care setting.
Providers deliver RPM services to collect a range of patient health data including blood pressure, vital signs, weight, heart rate, blood sugar levels, and physical activity.
How Medicare RPM Works
Medicare's Remote Patient Monitoring or Remote Physiologic Monitoring (RPM) program uses digital devices and technology in a patient's home to collect medical data from patients. These devices can capture metrics such as blood sugar and heart rate. The data is then electronically transmitted to healthcare providers for assessment and intervention.

The premise of the program is that RPM technology allows providers to have a more frequent and comprehensive view of the vital signs associated with a patient's chronic conditions like COPD, hypertension, congestive heart failure, and diabetes.

Over the past few years, CMS has significantly revised its coverage of RPM services through the overhaul of CPT codes and an increase in payment for remote physiological monitoring services. These changes have turned RPM into one of the most lucrative Medicare care management programs.
Specialties
The RPM program by CMS would significantly transform the care delivery in specialties including but not limited to
OB-GYN
Hypertension
Dentistry
Pain Management
Diabetes
Surgical Services
Pediatrics
Nephrology
Gastroenterology
Cardiology
Who Qualifies for Medicare Remote Physiologic Monitoring?
Although the CMS originally classified RPM for the treatment and management of chronic illness, proposed changes allow providers to evaluate and treat acute illness as well. This is especially important now, as an increasing number of patients seek care during the pandemic.
In order to qualify for coverage, the RPM device used must be reasonable and necessary for the diagnosis and treatment of the patient's condition. The device must meet FDA standards for medical devices as described in section 201(h) of the Federal, Food, Drug, and Cosmetic Act.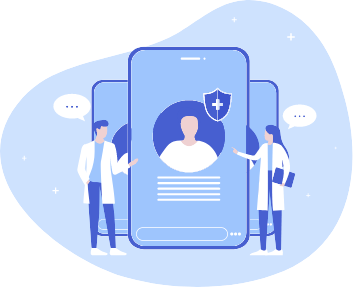 RPM - Efficiency & Outcomes
75%

Reduced Hospital Readmission

15%

Fewer Emergency Visits

90%

Improved Patient Satisfaction

91%

Health Outcomes were as good or better via Telehealth
Aiding the COVID-19 Fight
Medicare extension Care Management Programs help preserve healthcare system capacity for COVID-19 patients in a number of ways such as
Decreasing the risk of virus transmission among patients, community members, and healthcare workers
Helping patients recover at home while eliminating hospital visits or admissions
Getting qualitative measurements of patient's health status and disease progression
Sending notifications to hospital staff to prepare for COVID-19 patients' arrival
Typical Medicare RPM Cycle & Problem Statements
Upload eligible patients onto the portal

Import from multiple sources such as EMR, HIS systems

Difficulty in identifying eligible patients

Obtain patient consent, prior to enrolment

Difficulty in triggering bulk messages/emails

Inability to log minutes for SMS triggers/emails

Monitor trends from patient health data

Inability to auto sync patient recorded data

No proper configuration for target ranges, thresholds, or alerts

Log services & capture progress notes

Manual logging of calls by Care Managers

Manual attachment of care plans to patients' charts

CPT code and bill generation

Applications that do not integrate/interact with each other

Inability to capture accurate bills due to manual time tracking
LevelUp Remote Patient Monitoring Services
LevelUp offers a 360 degree suite of Remote Patient Monitoring services that deepen patient-provider relationships and increase practice revenue without adding overhead costs to providers. We ensure the RPM devices and technology are compliant with FDA standards.
We help providers in delivering end-to-end Medicare RPM programs and generating additional recurring revenue without overburdening their staff. Our skilled care coordinators
Obtain patient consent prior to enrollment
Create care assessment and communicate with patients
Identify patients with/out device assignments
Setup threshold and non-adherence alerts
Interact with patients, log services and capture progress notes
Generate CPT code and billing reports for CMS audits
Medicare RPM Reimbursement Codes
Physicians and other qualified healthcare professionals (QHCPs) can provide and bill for RPM. Clinical staff can furnish and manage RPM under the general supervision of the billing provider.
| Code | Description | Caregiver Criteria | Billing Period | Medicare Rate |
| --- | --- | --- | --- | --- |
| CPT 99453 | Set-up, patient instructions, and education regarding the use of RPM equipment | Must be ordered by physician or qualified health care professional (QHCP) | Billed 1x per episode of care, minimum 16 days of monitoring | $18.77 (Both non-Facility and Facility) |
| CPT 99454 | Devices supply with daily recordings or programmed alerts transmission | Must be ordered by physician or QHCP | Billed for a calendar month, minimum 16 days of monitoring | $64.44 (Both non-Facility and Facility) |
| CPT 99457 | RPM treatment management services, requiring interactive communication with the patient/caregiver | Performed by physician, other QHCP or clinical staff under general supervision | Billed for a minimum of 20 minutes in a calendar month | $51.61 (Non-Facility Rate) $32.84 (Facility Rate) |
| CPT 99458 | Reported in conjunction with 99457 to report each additional 20 minutes of time | Performed by physician, other QHCP or clinical staff under general supervision | Billed for additional 20 minutes in a calendar month as an addon to CPT 99457 | $42.22 (Non-Facility Rate) $32.84 (Facility Rate) |